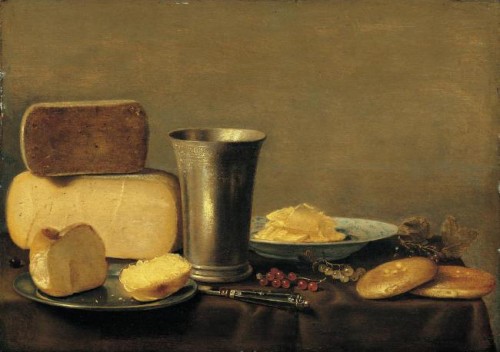 Floris Gerritsz van Schooten, A Still Life of Cheese, c.1585
oil on oak panel, 39.3 x 55.2 cm, Private collection

I stumbled upon a beautiful blog called Feasting on Art just today and decided to participate in the contest that I found posted there. Hey, why not? It's a contest based on cheese recipes, and I love cheese with the best of them! Please click on the link above and browse the gallery of food art. I think you will enjoy the art, the photographs and the recipes. Hopefully, you will enjoy re-visiting this cheese and havarti quesadilla also.
Apple and Havarti Quesadilla
1 Granny Smith apple - no substitutions here
3 T butter - no substitutions here either
1/8 t cayenne pepper - this is pretty hot, so don't add any more than 1/8 t
2 t cider vinegar - no substitutions
4 oz Havarti cheese - be sure it's not the dill type.... plain, regular Havarti
2-3 large flour tortillas
Peel and thinly slice the apple, chop the pepper and onion. Sauté slowly in a bit of butter until nice and soft.
Add the salt, cayenne, vinegar, garlic (I always use a garlic press so no one bites into a large piece of garlic) and brown sugar. Cook for about 2-3 minutes. Your kitchen will smell great - sweet, tart, spicy....
Spoon the apple mixture on 1/2 of the tortillas and then cover lightly with shredded Havarti. Fold over the tortilla to form the quesadilla.
Brown them in a clean pan in a bit more butter.... I like mine nice and brown. Allow them to cool before cutting them into wedges.
I know these sound unusual, but that's what makes them great. Try them and let me know what you think.